Water Activities
Things to Do – Adventures and Activities
There is plenty of light seasonal adventure, local culture and incredible tranquility to enjoy while visiting this empty stretch of beach as well as several day trips in the more developed tourist towns of Mal Pais and Samara for those who like to get out and explore.  Your hosts are on site to help plan all activities and make daily suggestions. Kick back, relax and play as much, or as little, as you like  – we will handle all of the details for you!
Activities & Packages are available during the High & Green Season, weather & space depending.
Some require a 20-minute to one-hour very scenic drive and are considered "Day Trips" to the neighboring towns of Mal Pais & Samara.
Prices subject to change.
---
WATER ACTIVITIES
Private Surf Instruction
Private Surf Instruction with certified bi-lingual instructors on the beach at Locos Cocos! Perfect for beginners, your instructors take the time to educate novices to the sport and our guests are always thrilled to be able to rent the boards for the duration of their stay, many have multiple lessons and leave as amateurs!
| | |
| --- | --- |
| PRIVATE LESSON | GEAR |
| $35 US 1hr | Daily board rentals available. |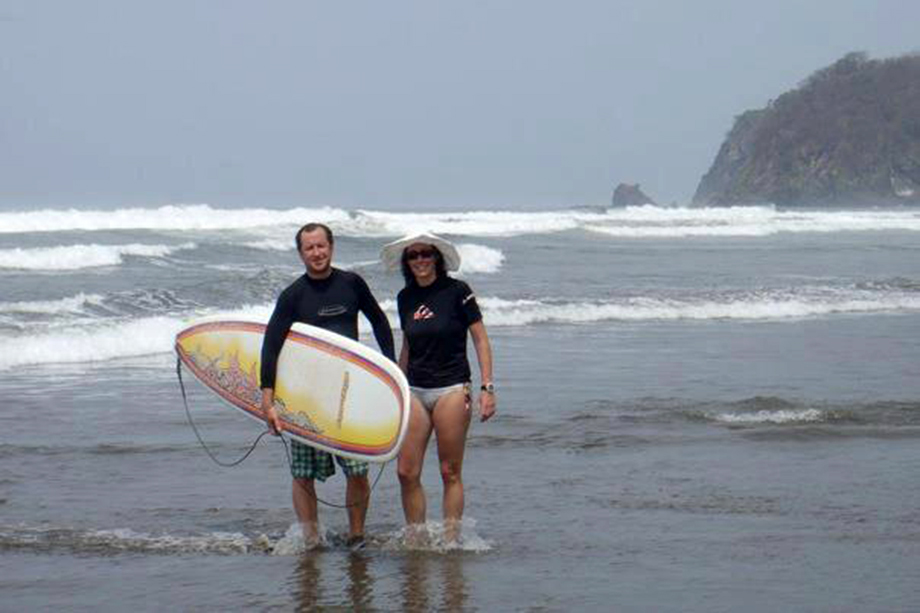 ---
In Shore & Off Shore Sport Fishing
Fish on a typical "Panga" in-shore along the coast for a few hours and catch your dinner! Hourly rates starting at $50 and we will provide you with a cooler and ice to carry drinks and hopefully your catch at the end of the day.
Off-shore excursions for Sail Fish & Dorado, full and half day, starting at $800 with professional captain on a 31 Palm Beach with state of the art electronics, tower, fighting chair, outriggers, top of the line tackle, live well, and plenty of shade. Perfect for the serious or novice fisherman. A cooler with lunch and beverages is included on full day charters. Beverages and snacks for half day.
| | |
| --- | --- |
| RATES | INCLUDES |
| $50+ US / hr | Panga, cooler. |
| $800+ US / half day | Professional captain, tackle rental. |
| Enquire about full day rates | Professional captain, tackle rental, lunch, beverages. |
---
Fishing, Dolphin & Snorkeling Tour
Half-day fishing for some of the hardest fighting fish (Rooster, Yellow Fin Tuna, Mahi Mahi) in the open waters off the Pacific Coast in a 24 foot Panga under a shade tarp. It doesn't get any better than this. You are almost certain to see dolphins all year round and the occasional humpback whale during the second half of the year.
| | |
| --- | --- |
| MINIMUM 2 PERSONS | INCLUDES |
| $55 US per person | Professional captain, tackle rental, and snorkeling equipment rental. |
---
Ocean Kayak and Snorkeling at Chora Island
A twenty-minute paddle from Samara Beach and you will arrive at Chora Island known for its beautiful white sand beach. Not only a perfect place for snorkeling with waters filled with colorful tropical fish, this small island is home to 11 species of birds and an abundance of reptiles.
| | |
| --- | --- |
| MINIMUM 2 PERSONS | INCLUDES |
| $35 US per person | Equipment rental, experienced and bilingual guides, fresh fruits and drinks. |
---
Snorkeling Trip to Tortuga Island
This is a full day trip from Cristal Azul but guests have the opportunity to dive in an area considered by many to have the most abundant display and collection of colorful, tropical fish. Depending on the tides, guests drive to Montezuma via the beach road and take a 45-minute boat ride to Tortuga Island. Along the way there is a great chance to see dolphins and your guides will point out a few known landmarks en route as well. Upon arrival, beach goers and the cook will be dropped off and divers will head out to the front of the island approximately 45 min – 1 hour. After a delicious lunch of fresh grilled fish and salad, there is time for more diving or to explore the trails throughout the island. Climb to the top and see all of the Islands that are present in the Golfo Nicoya.
| | |
| --- | --- |
| FULL DAY | INCLUDES |
| $135 US per person | Transportation, guide, equipment rental and lunch. |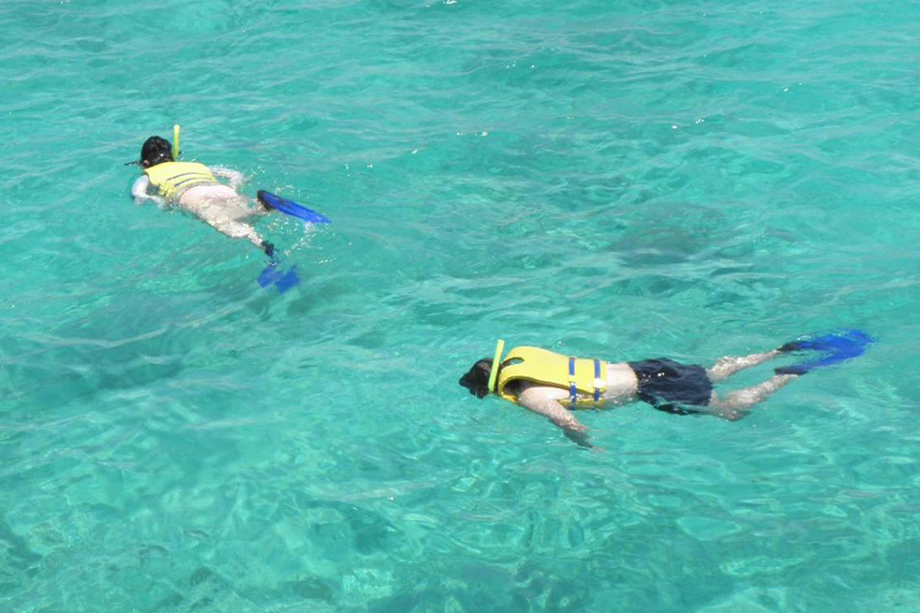 ---
Scuba Diving
Come and experience the beauty of the seabed and take a peak at the many schools of fish of all different colors, manta rays, sharks, turtles and dolphins! Treat yourself to a special and exciting tour carefully put together by well-trained PADI-Approved staff. You will have access to several diving spots around Samara and Carrillo.
The boats are adapted to be the most comfortable and to provide a secure experience for every customer. The large T-Top can be lowered at your convenience whenever you feel like taking a sun bath! Cookies, snacks, water, juice and soft drinks will be provided. Full day trips include a lunch. English and Spanish spoken.
RATES
INCLUDES
Certified Divers: $100 US
for 2 dives in one day
PADI-Approved guide, equipment rental, snacks, beverages.

Non-Certified "Discover Dive"*: $135 US
for 2 dives in one day
PADI-Approved instructor/guide, insurance, equipment rental, training in pool and open water dive, snacks, beverages.
* Also available for Certified Divers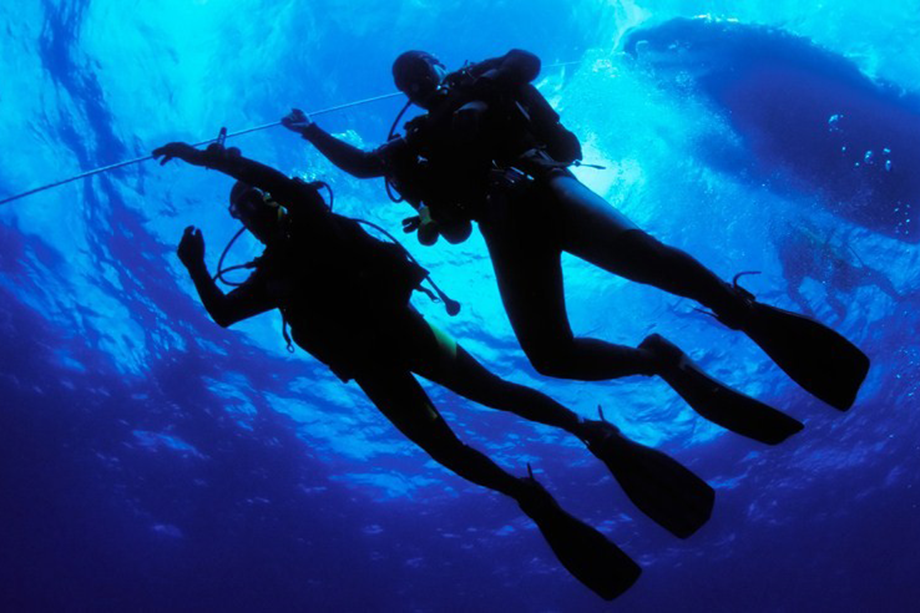 ---
Mangrove Kayak Tours
Starting 3km up the Ora River, a local guide will take you on a relaxing 3-hour sightseeing adventure through the dense tropical forest vegetation and thick mangroves along the banks until arrival at Camaronal Beach. Quietly observing birds such as Cormorants and Roseate spoonbills, Howler (Congo) and White-faced monkeys, Iguanas and and more!
| | |
| --- | --- |
| RATES | INCLUDES |
| $45 US per person | Kayak rental, bilingual guide and snacks. |
---
Mangrove Boat Tour
An experienced bilingual captain/guide will share the beauty and natural history of the local mangroves on the area. An abundance of fowl, marine and wildlife await you as you sit back and enjoy a leisurely 3 hour tour with intimately immersed in the jungle and surrounded with lush, tropical beauty.
| | |
| --- | --- |
| RATES | INCLUDES |
| Price depends on number in party, please inquire. | Bilingual guide/captain and beverages. |
---
Paddle Board/Stand Up Paddle (SUP) Instruction & Tours
Challenge yourself as you paddle through fun & safe rolling waves and then play around in tranquil waters! You'll receive a thorough safety lesson and get fitted for your equipment — helmet, life jacket and paddles. Practice with your guide and then enjoy a beautiful 2.5-hour Stand Up Paddle trip to Isla Chora or around the bays of Samara Beach and Carrillo Beach. River and ocean SUP available.
| | |
| --- | --- |
| RATES | INCLUDES |
| $65 US per person | Equipment rental, guide. |